Ausstellung DERMA im Q18 – Quartier am Hafen, Köln, von und mit Liza Dieckwisch, Klara Kayser und Julia Gruner, 2022 / exhibition DERMA at Q18 – Quartier am Hafen, Cologne, by and with Liza Dieckwisch, Klara Kayser and Julia Gruner, 2022
Fotos: © Kai Werner Schmidt




Julia Gruner:
Lazy Painting, 2022, Acrylfarbe und Nessel, gefüllt mit Verpackungsmaterialien / acrylic and nettle, filled with packaging material



Liza Dieckwisch:
Ohne Titel, 2022, Druck auf Samt, Silikon, Pigment, PVC-Folie / print on velvet, silicone, pigment, PVC foil



Klara Kayser:
international Wall Tattoo (protector), 2022, Digitaldruck auf Klebefolie / digital print on adhesive foil




Installationsansicht Q18 / installation view at Q18



Klara Kayser:
I hope I haven't changed (2), 2022, bedruckter Industrieteppich in Stahlrahmen / print on industrial carpet in steel frame



Julia Gruner:
Lazy Paintings, 2022, Acrylfarbe und Nessel, gefüllt mit Verpackungsmaterialien / acrylic and nettle, filled with packaging material




Installationsansicht Q18 / installation view at Q18




Julia Gruner:
Firming Lover, 2022, Inkjet-Print auf Plakatpapier, auf die Wand gekleistert / inkjet print on blueback paper, glued to the wall



Liza Dieckwisch:
Ohne Titel, 2018, Steingut, Glasur / glazed ceramic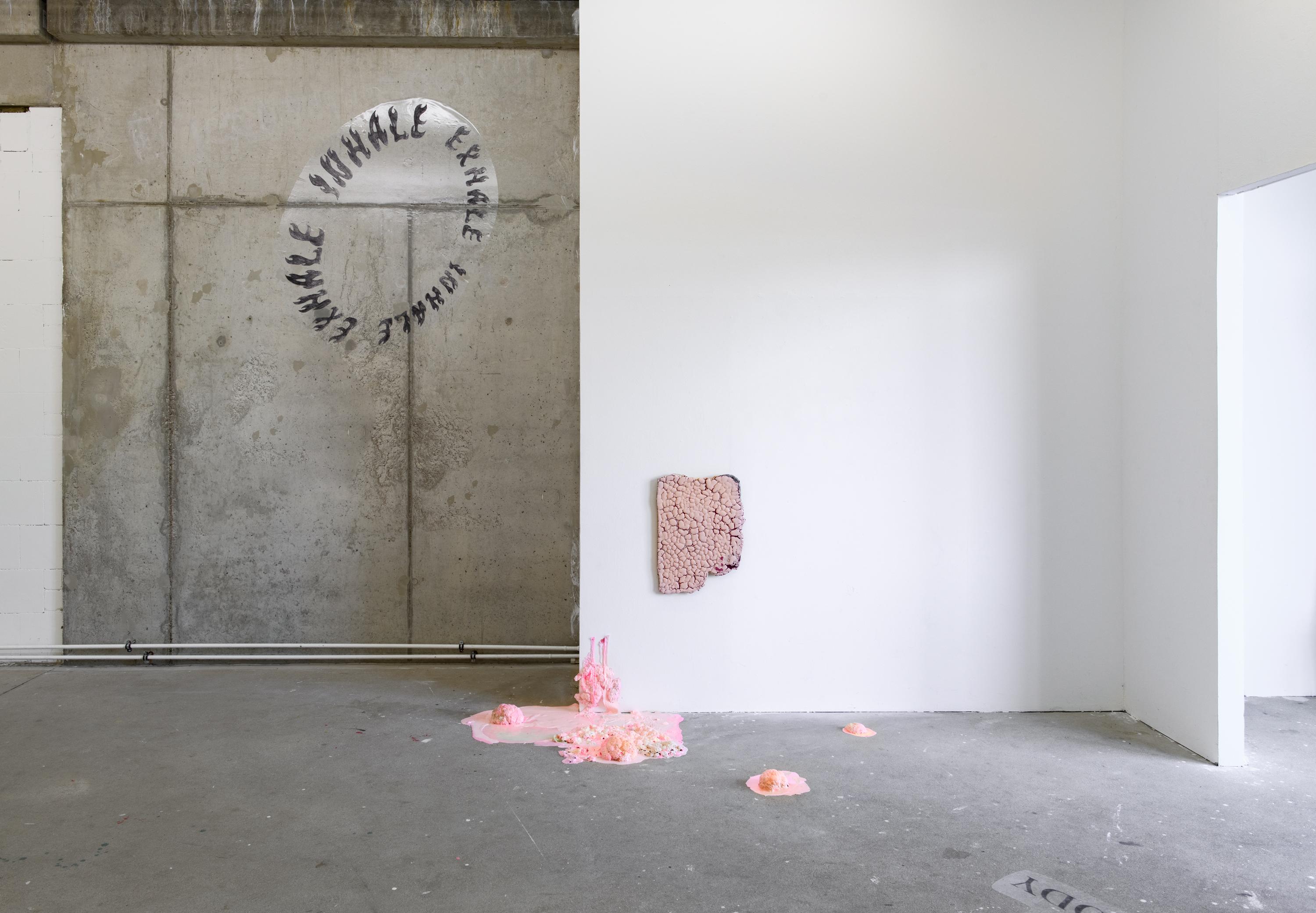 Installationsansicht Q18 / installation view at Q18




Liza Dieckwisch:
Ohne Titel, 2022, Silikon, Pigment / silicone, pigment



Klara Kayser:
international Wall Tattoo (inhale exhale), 2022, Digitaldruck auf Klebefolie / digital print on adhesive foil



Liza Dieckwisch + Julia Gruner (Artist Mukbang):
Giant Pudding Mochi Artist Mukbang, 2022, Video, Farbe, 7:50 min. / video, color, 7:50 min.
Video link: https://youtu.be/TpGD-41NsRo




Videostill Giant Pudding Mochi Artist Mukbang




Klara Kayser:
international Wall Tattoo (the body is body in body), 2022, Digitaldruck auf Klebefolie / digital print on adhesive foil



(English below)

In der Ausstellung DERMA wird Haut als eine dynamische Grenze verhandelt, die physisches und geistiges Material sowohl ausschließen als auch hindurch lassen kann. Die Materialien der Ausstellung zeichnen sich durch starke visuelle – fast fetischhafte – Komponenten aus, die unterschiedliche Begierden, aber auch Abwehrverhalten erzeugen. Diese Reaktionen basieren häufig auf einer erlernten, teilweise irrationalen Materialerziehung. Im Gegensatz zur traditionellen Trennung zwischen künstlichen und natürlichen Materialien und den daraus resultierenden Zuschreibungen in gute und schlechte, gesunde und schädliche oder wertvolle und arme Materialien wird in ihrem Gebrauch bei der Ausstellung DERMA keine Hierarchie und kein Wertesystem impliziert. Gängige Vorstellungen einer klaren Trennung dieser Phänomene werden hinterfragt.

---

The exhibition DERMA treats skin as a dynamic boundary that can exclude or include physical and mental material. The materials in the exhibition are characterized by strong visual – almost fetish-like – components that generate different desires, but also defensive behaviors. These reactions are often based on a learned, sometimes irrational material education. In contrast to the traditional division between artificial and natural materials and the resulting attributions into good and bad, healthy and harmful, or valuable and poor materials, no hierarchy or value system is implied in their use in the DERMA exhibition. Common notions of a clear separation of these phenomena are questioned.